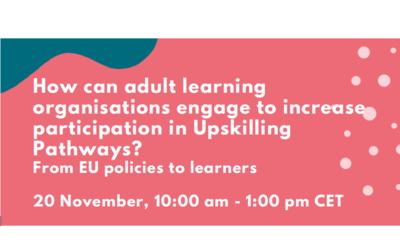 European Association for the Education of Adults (EAEA)
The European Association for the Education of Adults (EAEA) is the voice of non-formal adult education in Europe. EAEA is a European NGO with 133 member organisations in 43 countries and represents more than 60 million learners Europe-wide.
EAEA is a European NGO whose purpose is to link and represent European organisations directly involved in adult learning. Originally known as the European Bureau of Adult Education, EAEA was founded in 1953 by representatives from a number of European countries.
EAEA promotes adult learning and access to and participation in non-formal adult education for all, particularly for groups currently under-represented.
How can adult learning organisations engage to increase participation in Upskilling Pathways?
20.11.2020 10:00 - Európa, Slovensko
Popis
20 November, 10:00 am - 1:00 pm CET
---
What can adult education trainers and staff do to increase participation in Adult Learning and Education? How can they engage to improve and implement national and European policies?
The UP-AEPRO project addresses the constant need and interest of trainers and staff to learn more about European developments in adult education. After an e-learning course on policy and practices for Upskilling Pathways and peer learning webinars, the consortium would like to exchange on the concrete steps ALE trainers and staff could do to increase learners' participation in Upskilling Pathways.
During the event, you will have the chance to hear learners' voices, discuss the challenges with other trainers, learn about advocacy tools and contribute to the UP-AEPRO policy recommendations. In addition to high-level inputs, presentation of the project results and interactive discussions, there will also be an occasion for the Portuguese adult education sector to discuss successful initiatives on an inclusive and empowering basic skills provision.
Online tools and other inspiring methodologies will be used in order to enable participants to contribute and feel fully engaged in the event.
Odkaz
https://eaea.org/wp-content/uploads/2020/06/Annual-Conference-Outreach-and-Access-in-Adult-Learning_programme-1.pdf
---