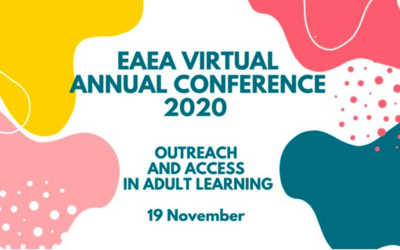 European Association for the Education of Adults (EAEA)
The European Association for the Education of Adults (EAEA) is the voice of non-formal adult education in Europe. EAEA is a European NGO with 133 member organisations in 43 countries and represents more than 60 million learners Europe-wide.
EAEA is a European NGO whose purpose is to link and represent European organisations directly involved in adult learning. Originally known as the European Bureau of Adult Education, EAEA was founded in 1953 by representatives from a number of European countries.
EAEA promotes adult learning and access to and participation in non-formal adult education for all, particularly for groups currently under-represented.
EAEA Virtual Annual Conference: Outreach and Access in Adult Learning
19.11.2020 10:00 - Európa, Slovensko
Popis
A virtual conference will take place instead of the planned face-to-face meeting and conference in Bratislava.
---
What lessons can be drawn from the ongoing COVID-19 pandemic? We invite you to discuss new challenges and opportunities for outreach and access in adult learning during our virtual conference.
On the first day of the conference, we will focus on the immediate response to the pandemic and the support adult education providers have provided to their most vulnerable learners. We will also reflect on what lies ahead. Looking at "Outreach and Access in Times of Crisis and Beyond," we will hear from Dr Ellen Boeren, a researcher in adult learning participation, and from several adult learning professionals who will share their hands-on experience in outreach and access during a series of interactive workshops. We will discuss digital exclusion, online and hybrid learning festivals, support for self-isolating learners, and more.
On the second day, we will look at the European Commission's Upskilling Pathways as an opportunity to improve outreach and access, and we will discuss how and why to engage to make the initiative a reality. "How can AE organisations engage to increase participation in upskilling pathways? From EU policy to learners" will give you a change to hear learners' voices, discuss the challenges with other trainers, learn about different advocacy tools and contribute to the UP-AEPRO policy recommendations. The event will also be an occasion for the Portuguese adult education sector to gather and discuss successful initiatives on an inclusive and empowering basic skills provision.
You will receive the link to the right Zoom meeting(s) after you have registered. Please register early especially if you're planning to attend the workshops, as the number of spots is limited.
More information:
Odkaz
---