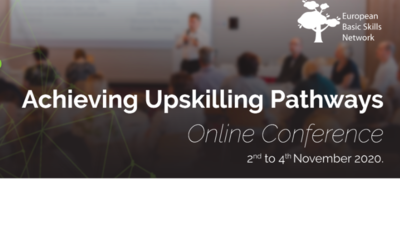 The European Basic Skills Network
The European Basic Skills Network, EBSN, is a non-profit association gathering policy makers and policy providers engaged in basic skills training for adults.
It aims at promoting excellence in policy design and policy implementation, at European, national and regional level, in a field that has considerable impact on education, employment, social inclusion, the fight against poverty, and sustainable economic growth.
Achieving Upskilling Pathways
02.11.2020 13:00 - Európa, Slovensko
Popis
As a response to the challenging situation caused by the conditions of COVID-19 pandemics EBSN has decided to organise its annual conference online in 2020. We kindly invite you to attend our 3-day online conference with presentations, workshops, virtual marketplace on Facebook, and a project generation facility to contact-making and partnership building.
What is the Virtual Marketplace?
We will continue the tradition from EBSN annual conferences of providing a space i.e. marketplace for sharing information and networking. This year the marketplace will be hosted in an allocated Facebook group. The Virtual Marketplace will be dedicated to promoting interaction, networking, and sharing additional resources beyond those presented at the workshop talks.
What is the Project Generation Facility?
The EBSN Secretariat is initiating an online platform dedicated to participants who would like to reach out and connect with each other with the aim to establish actual collaborations and join forces for project ideas in the field of basic skills development. The Member Organisations' diverse background represent a significant potential for partnership-building. The Secretariat wishes to further promote cooperation among EBSN Members and beyond.
The links to access the conference workshops and the Project Generation Facility will be sent via e-mail during the week before the conference only to registered participants. The Virtual Marketplace will be made public for everyone.
---
Odkaz
https://basicskills.eu/welcome-to-ebsns-online-conference/
---